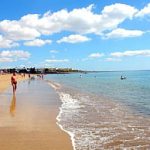 Matagorda, and the nearby beach resort of Los Pocillos were developed on Lanzarote during the 1990´s in order to cater to a growing demand for holiday accommodation in Puerto Del Carmen. As a result facilities and infrastructure are relatively modern.
Although the resort has grown over the last twenty years it now stretches along the whole 6 kilometers of golden sandy beaches — the town has been saved from the high-rise buildings that blight so many other destinations due to the strict planning restrictions.
Matagorda is just a small walk away from the busy nearby resort of Puerto Del Carmen  . And is often viewed as just an extension of the larger, busier resort of Puerto Del Carmen. But Matagorda has a unique character all of its own. Boasting excellent beaches, good amenities and plenty of bars and restaurants. And offering a quieter alternative to the hustle and bustle of Puerto Del Carmen. Matagorda does lie in close proximity to Arrecife airport although, little more than a five minute away so can be nosier than some other areas. But residents will tell you they hardly notice the airplanes after awhile. With the new town of Puerto Del Carmen little more than five minutes away in the opposite direction. The resort is orientated around a long stretch of golden sand and is home to a number of good quality hotels. Life in Matagorda inevitably revolves around the beach. Along with the sea front promenade which now stretches all the way into Puerto Del Carmen to the south. And all the way back towards Arrecife in the other direction.
Shopping facilities in Matagorda are relatively sparse in relation to Puerto Del Carmen. Revolving around the Commercial Centre Matagorda which is home to a Spar supermarket. Nearby Los Pocillos is also served by the same supermarket chain. The Commercial Center is also home to numerous bars and restaurants. Although those in search of some more serious nightlife will need to walk or take a taxi into Puerto Del Carmen.