Who are you? What is it you do?
All you need to know about Clarity Consulting Lanzarote and more…
About Clarity Consulting Lanzarote 
About Clarity Lanzarote. This is a professional association headed by a British husband and wife team, with over 35 combined years experience on the island.  Originally from the North of the UK, they have made their home in the hills of the wine region. The attraction of the all year round warmer climate, lunar landscape, the local people and their culture provide the richer quality of life they were seeking.
They do understand that to make the move abroad, or invest hard earned life-savings in property can be not only daunting and confusing, but can also be stressful and scary.  This can provoke endless doubts that if left unchecked could put an end to your dreams.
Their local knowledge and understanding of the local Spanish system enables them to help ex-pats avoid the pitfalls, waste money. And get through the red tape and bureaucracy fluidly and efficiently.
What can Clarity Lanzarote do for you?
Whether you are looking at a new venture, taking your first steps in a new exciting direction, or are a happy settled resident. Help is always on hand from their tax, property and legal services to name but a few of the services they provide.
Their extensive support network of info, and personal assistance will cover whatever your needs may be. 
Please refer to the seemingly endless list Services Index that they can provide.  A full A to Z with every thing paperwork, from obtaining builder's quote, project managing or even drafting a Spanish Will. Or maybe just help getting in contact with your local Town Hall or service providers. So one of the main things to know about Clarity Consulting is. Really the big question is what can Clarity not do for you!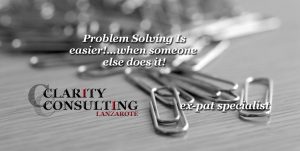 Why should you choose Clarity Consulting Lanzarote?
Most importantly, this is a company who pride themselves on listening to their clients.                                                        They clearly and decisively provide the correct skilled help and assistance to immediately advance upon all matters.
Therefore we feel certain that if you take advantage of this leading company's services. Whose swift responses acknowledge and satisfy the feelings and urgencies that there may be.                                                                                    You will then have the peace of mind knowing your paperwork matters are in the best of hands.
Therefore allowing you the opportunity to relax and enjoy your Lanzarote.
If you would like to know more about clarity. And if you have any questions about Clarity Consulting's services. And would like to get in touch.
Please don't hesitate to use the Contact Us page for any concern or help. or call us (+34) 606 835 559. Also available via whatsapp