Living And Working in Lanzarote.
As of 2021 due to Brexit. All British Nationals are deemed non EU members so some differences and restrictions may be in place.
This is Clarity's brief guide to living and working in Lanzarote. All EU Citizens have the right to work in Lanzarote.  With full working rights equivalent to that of his Spanish counterpart.
In order to work in Lanzarote legally. The first thing you must do is register with the social security system and obtain a social security number. Which you also need for any medical matters.
Secondly you must obtain an ID number known as a NIF/NIE as mentioned above.
As an employee your social security will be paid by your employer. 
If you are going to be a self-employed person.  You will be obliged to pay social security every month and tax on your earnings. At the end of the tax year you will also be obliged to make a tax return or Declaracion de La Renta.
Setting up a company is slightly more complicated contact us for more information. 
If you are a British National and would like more information.  here
Identification number (NIE)
As part of living and working in Lanzarote there are, as there is anywhere things you have to legally do. NIE's is one of these things.
NIE stands for "Número de Identidad de Extranjero", which translates to Foreigners Identity Number.  All persons and companies operating in Spain must have an identification number.  
This will be your personal number for all Spanish territory and will never change. read more
Schools in Lanzarote
Again part of living and working in Lanzarote, is family if you are relocating with children of school age. You may be thinking about enrolling them into a local school.
These are the types of school on the Island: Local Spanish, Private English, and Private International.                                                         The option you choose may be price or area dependent.
Click the link for a list of local Spanish schools. schools in Lanzarote .  This is dependent on where you are living in Lanzarote.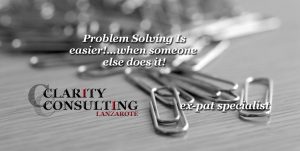 When you are running a business, or working full time. Some times there's just not enough time to do everything,that's why.  Here at Clarity Consulting Lanzarote we can help take the stress out of living and working in Lanzarote.
If you have any questions on any of the above mentioned items or any other questions regarding paperwork in Lanzarote.
Please feel free to contact us by just filling in the simple contact form below for consultation.
Telephone: (+34) 606 835 559. Also available via whatsapp